Throughout the Corner Country are a number of unmarked and often lonely gravesites. From the early days of exploration and European settlement deaths occurred from accidents, heat exhaustion, from perishing, and from transmittable diseases such as typhoid and diphtheria. Of the known gravesites Eliza Kennedy's is the best known.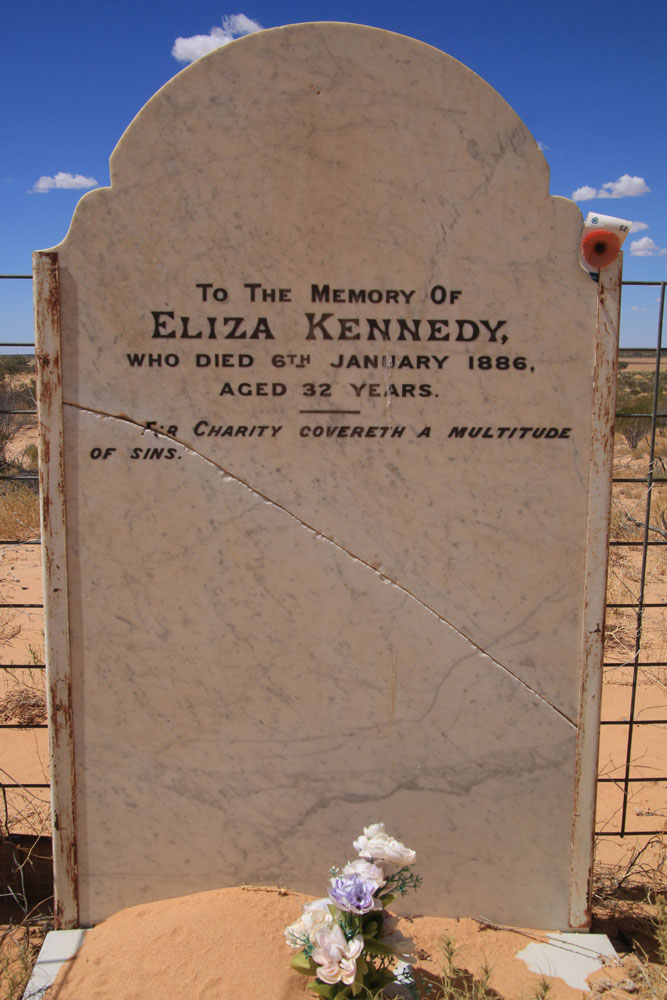 Eliza Kennedy: Sturt's Steps, Silver City Highway
Many visitors travel each year to far west New South Wales to experience all that Corner Country and beyond has to offer. The very first non-Indigenous person to traverse this remote part of Australia was Captain Charles Sturt and his exploration party in 1845.
Along the route taken by Sturt and his party, lakes and waterways are few. In the vast semi-arid rangelands these features have always been important to locals and visitors. Such places were used for harvesting resources such as food and water and for contemplation.
Settlers headed west in the mid to late 1800s, in search of lands to graze livestock. The late 1800s gold rush put Milparinka and Tibooburra on the map and made them iconic destinations.
This influx of people created the need to provide services for weary travellers along the way. So every thirty miles or so hubs grew, firstly as locations to change stagecoach horses, and then hotels to feed and accommodate workers and travellers. The Cobham Lake Hotel was one such hub located alongside the lake that gave it its name.
Travellers with time to fossick and a keen eye may find traces of the old hotel, all but lost to history. The only man-made feature that survives alongside Cobham Lake today is a lone grave, belonging to Eliza Kennedy who died in 1886.
Several stories are still circulating locally today about Eliza Kennedy. Speculation varies wildly about Eliza's life and her early death. Records vary also, stating various ages for her at the time of her death. Her lonely headstone with its intriguing epitaph prompts visitors to contemplate her existence and perhaps their own mortality. It reads:
"To the memory of
Eliza Kennedy
Died 6th January 1886
Aged 32 years
For charity covereth a multitude of sins"
Local stories told down the generations say that Eliza might have been a prostitute, living and working at Cobham Lake Hotel. Other stories suggest she drowned trying to save two children who had fallen into the lake. There is much speculation. What is known from coronial and death records, and can be confirmed as true, is that Eliza was a widow at the time of her death and at some point had been abandoned by her husband. Eliza had five pound  in a bank account in Wilcannia and she owned two horses, a sidesaddle, sundry riding tack, some jewelry and clothing.
Why Eliza continued to travel on to Cobham lake and stay, we can only speculate. But the sight of her lonely grave in its expansive landscape setting prompts the onlooker to ponder the role and hardships of women, then and today, in this large and at times hostile environment.
Both communities have historic graves which provide a snapshot of the social history of the local communities.  Unfortunately many of the records have been lost and the locations of most of the graves, especially Milparinka, are no longer available.
Also at Milparinka, on a rise to the SW of the township is a reserved area where the first European children to be buried on the Albert Goldfields. T Together Fanny and Jeremiah had four sons. George David Morphett and George Milparinka Morphett were the children of Fanny and Jeremiah Morphett. Both died in 1881 as infants and are buried together on the rise to the south west of Milparinka.